Edinburgh Half Marathon race report
This report begins for me (Steve) and Gemma (Hawkins) a year ago. We're both fairly new to TRAC, went away to Scotland for a holiday and happened to find ourselves in Edinburgh surrounded by the Edinburgh Marathon Festival. I'd only just completed my first half Marathon back then a couple of weeks prior, and Gemma wasn't familiar with the distance at all. We both agreed we'd take part at this special event one day; little did we know it would be 12 months later!
Leading into the race, I didn't really have any expectations on achieving the goals I'd set out when I booked it. Unfortunately, illness prior to Manchester Marathon, I was still at the end of this until a week before Edinburgh. I wasn't able to put together much speed work, so it was more of a 6-week easy run training block to try maintain the fitness. It left only one option: Wing it and hang on for dear life!
Saturday 27th May started the weekend off with a number of events, ranging from 1KM up to 10K. We'd only just arrived in the city at the time and didn't get the chance to check the day itself as by the time we arrived in Edinburgh it had already finished.
Fast forward a few hours, myself and Gemma are woken up to the 6AM alarm, as the Half Marathon start time was 8AM. In terms of weather conditions, we couldn't have asked for anything better. Around 13 degrees Celsius and partly sunny, some say the best race conditions.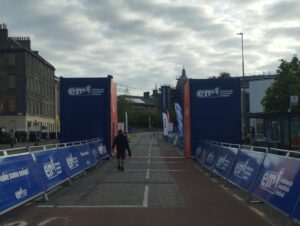 We make our way over to the start area and we're greeted by Andy Stevens who is just getting ready for the half too. We have a quick chat on what we're looking to achieve from the day. I was fairly apprehensive given the circumstances on the build-up to the race. I remember him saying to me on the day, you'll know around mile 8 or so if it's your day and you're able to push on.
The course itself was a runner's dream. A descent of around 90 metres to near sea level, and they say themselves it's arguably the fastest half marathon course in the world! The first 3 miles were everything you want from a race. Lots of downhill, lots of famous landmarks, a few climbs and i thought to myself, carry on and it's going to be a huge PB – little did I know that invincible feeling came to an end at around mile 5! To me the real challenge began when the course went FLAT. Something I never thought I'd say!
Safe to say the realisation hit me around the 7th mile. Although I was still able to maintain the run itself (not the pace), the lack of 'quality' training had started to show and it had begun to be evident.
All in all, it was so much fun. Great seeing Andy out a couple of times during the race (of course running in the opposite direction on his way back). There is always that small 'lift/ boost' you get when you pass someone you know, be it spectator or runner!
Although my half marathon technically wasn't a PB, short by 2 seconds set at London Landmarks, I still went through the 10KM time in sub 43 which was my PB for the day. The official event chip time for myself was 1:36:47.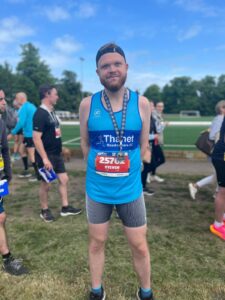 Gemma had pulled off a massive PB! Taking on her second ever half marathon, she had beaten her original time of 02:10:39 that was set at London Landmarks, and went through in 02:04:13. She was overwhelmed at the end of the race, as she had worked so hard putting together a consistent mileage base through easy miles, long runs, hill sessions and even found herself going to track nights on the regular basis, in the build-up.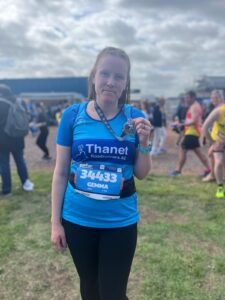 Andy also delivered a big PB on the day! Crossing the finish line with a chip time of 01:17:24. He also managed to gain the V50 gold crown at the event!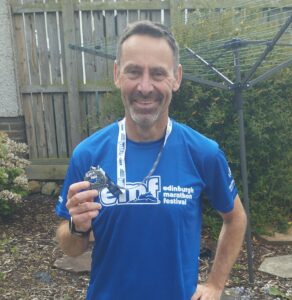 Many thanks to Steve and Gemma for the race report and well done to everyone proudly flying the TRAC flag north of the border !!