"Some like it hot" – Tenterden 10k race report
So, summer's finally here !  Rising mercury, wall to wall sunshine and hardly any breeze.  Perfect conditions for one of the hilliest 10k races around !
We're a hardy bunch at TRAC so the challenging conditions weren't enough to put us off from travelling in numbers to Tenterden on this lovely Sunday morning.  The races was the latest instalment of both our club champs and the Kent Grand Prix so lots of points were up for grabs.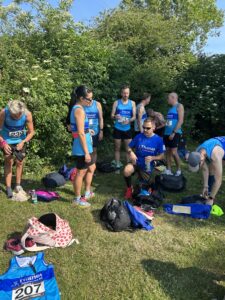 After the obligatory pre-race photo we were on the start line eagerly awaiting the race start.  There was a 5k race and a 10k race starting at the same time.  Although many of us were there to run the 10k we had one of our juniors Maisie Kemp taking on the 5k course too.  The race starts with a short section on grass followed by the first hill.  The course was either heading up or down and there was very little flat.  The 5k runners turned round at this point and the 10k runners hit another hill to tackle.  
A long downhill stretch between 1-2 km felt great on the legs until you realised you were going to head back up this hill between 8-9 km later on ! Runners were starting to wilt a bit and many club members afterwards said the off road loop of a vineyard at the half way mark felt particularly tough – all on grass.  Another undulating section led to the most difficult section of the course; a long uphill stretch that we ran down earlier.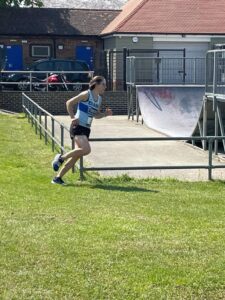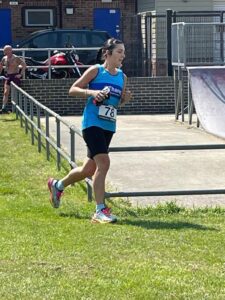 I think most runners were particularly pleased to see the finish line.  It isn't a PB course and most of us were several minutes off PB times.  The course would be difficult enough on a cool day but the heat made it a double challenge.  Big thanks to the marshals and the organisers at Sporting Events.  An even bigger thanks to the team at "The Hive" mobile caterers who were serving up iced coffees to die for at the end.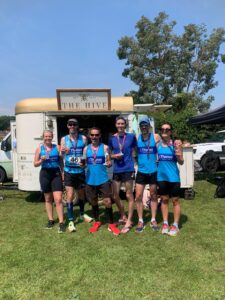 Maisie Kemp put in a great performance and took silver medal, 2nd place, in the 5k race.  Well done Maisie !!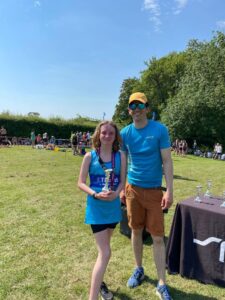 In the 10k race, Jack Bradley led the TRAC runners home in an impressive 3rd place, closely followed by Andy Stevens in 4th place.  Andy also won the MV50 trophy.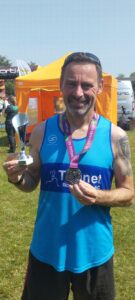 Next up in the club champs and Kent Grand Prix series is the Sackett 10k next weekend.  So, we haven't got long to wait before we hit the roads again !
TRAC results:
5k race
2nd – Maisie Kemp
10k race (202 finishers)
3rd – Jack Bradley   36:48
4th – Andy Stevens   37:01
10th – Lee Hardie   38:21
16th – Chris Brenchley   42:05
20th – Jamie Jordan   42:28
34th – James Figgins   45:42
40th – Steve Suttle   46:17
44th – Spencer Hoult   47:05
48th – Chris Pascoe   47:27
52nd – Georgia Hughes   47:53 (1st TRAC female)
62nd Jo Kemp   49:04
71st Claire Greenaway   50:06
79th Pete Heath   51:07
91st – Nikki Boyes   51:57
95th – Charlotte Barton   52:24
106th – Julie Williams   54:23
123rd – Dan Grech   56:45
132nd – Ryan Holah   58:00
151st – Janet Morgan   1:02:01
161st – Mark Hadden   1:04:02
163rd – Tim Kerr   1:04:52
192nd – Phil Cope   1:13:06
196th – Terry Brightwell   1:16:55
PS – If we have missed anyone off the results, please contact us.  It's difficult to make sure we have accounted for everyone as you can't search the results by "club" so you have to cross reference pre-race photos with the race results to make sure we have caught everyone !!
We will update the club champs scores over the next 48 hours once we're sure we have got everyone included in the results.