Furley Page Whitstable 10k Race Report
We love your race reports.  Kevin Bullions sums up the Whitstable 10k race.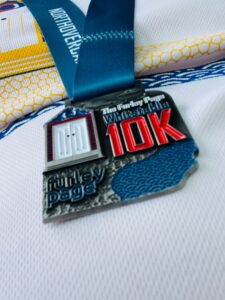 Bank Holiday Monday 1st May saw the Furley Page Whitstable 10k race take place, organised by Canterbury Harriers. This event was well supported by Thanet Roadrunners with eighteen (to the best of my knowledge) Traccies taking part, most of whom raced in club colours.
Weather conditions were dry, bright with a gentle-ish wind blowing west to east (more of this later…)
Race HQ for this popular event was at Whitstable Harbour and was well organised with registration desks and bag drop facilities clearly signposted. With race numbers pinned to our vests and timing chips tied to our shoes, we made our way up to the start line, a short walk away, up on Tankerton Slopes (which will be familiar to anyone who has ever done the Whitstable ParkRun. The race started, overlooked by our own Terry Brightwell who was adjudicating that day, at 9:30 with runners going off in waves based on their predicted finish times. The course heads eastwards away from Whitstable and is a mixture of path (small sections on grass) & road running. After the first mile, runners headed slightly inland and passed through the Stud Hill Holiday Park before facing the only uphill incline of the race at mile 3, this being a grassed path that takes you up onto the cliffs overlooking the prom where the lead runners were already heading back to the finish by the time I got there. At mile 4, you start the return to Whitstable, and it is here you'll find the water station, the remainder of the run is flat and mostly follows the prom, barring a short section inland. If you have planned your race correctly, this is the time to 'give it the beans' and record a quick time, I, however found myself starting to struggle at this point, tired legs (probably from a lack of training) and the wind now hitting me in the face took it's toll and I could feel my pace dropping off, still I was able to complete it in just under 56 minutes, not as good as the 49 minutes I done the previous year, but it's given me something to work at. Having been rewarded with my medal and t-shirt after crossing the line, all I had to then do was bid farewell to my fellow TRAC runners and remember where I had parked the car.
Sporting Events, who were providing the timing, had a gremlin in the system and many runners, including myself, received a text after the race telling me 'Well done' and that I had completed it in 9667 hours something, I don't remember running non-stop for 403 days, although it may have felt like it at times!
Looking at our club's performance on the day, from what I can work out and apologies if I've missed anyone out, Andy Stevens was the first Male TRAC runner home, finishing in 7th place overall with a time of 36:13, a great way to celebrate his birthday, shortly followed by Jay Bailey in 10th with a time of 37:02, the first female TRAC runner home was Charlotte Barton with a time of 48:14.
This popular event attracted about 850 or so runners and is always a sell-out, a must-do for the calendar in 2024 in my opinion.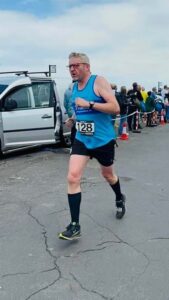 Kevin Bullions
Results:
7th Andy Stevens 00:36:13
10th Jay Bailey 0037:02
107th Martin Palmer 00:46:43
121st Maxwell Hubbard 0047:24
147th Charlotte Barton 00:48:14
152nd Paul Preston 00:48:23
205th Royston Robertson 00:50:09
214th Stephen Forshaw 00:50:40
282nd Sharon McAvoy 00:53:49
309th Jacquie Brazil) 00:54:52
330th Gillian Kennedy 00:55:37
334th Kevin Bullions 00:55:53
357th Gemma Hawkins 00:56:37
359th Steven Hawkins 00:56:38
405th Sandra Baldock 00:57:59
464th Donna Dharmasena 01:00:20
520th Nathan Wilson 01:02:07
667th Kirsty McMahon 01:09:24
---
The next Club Championships race is Chislehurst Half Marathon on Sunday 21st May. 
We've even put in a link to make booking easier.  This is a lovely road and woodland course, which raises money for local good causes.  Please try to share a lift with at least one other Traccie who is travelling to save the planet and your wallet!