London Marathon… what a day!
Fourteen Traccies ran London Marathon last weekend.  Max Hubbard has been good enough to provide us with a race report. But first the results in numbers…
Jack Bradley 2.40.34 ( just 3 minutes off the club record of 2.36..52)
Oliver Cobb 2.48.46
Simon Arter 3.00.18
Phil Stevens 3.04.23
Chris Brenchley 3.06.02
Steve Suttle 3.37.43
Max Hubbard 3.45.25
James Newing 3.46.35
Dave Winch 4.05.22
Pam Philpott 4.36.48
Rebecca Turner 5.04.12
Andy Langsmead 5.14.49 (you will be pleased to hear Andy is home and feeling much better)
Michael Green 5.17.47
Simon Clayton 5.53.56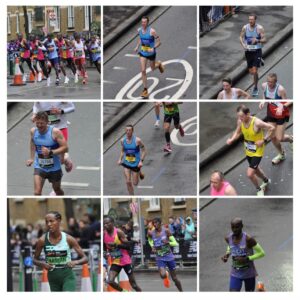 ---
Max's race report makes great reading
Running, like life, is full of ups and downs. I was originally not running the London Marathon but was lucky to be drawn out of the clubs ballot for its Marathon place. This news came at time where I was not particularly enjoying my running and was struggling with it a little. However, it was also this that gave me the motivational nudge that I needed as I know how special the London Marathon can be. 
Obviously having a place in the marathon and actually running it are two different things entirely. I essentially had a love hate affair with my training where I was far too guilty of missing out a number of the longer runs. Whether this was because I knew I wasn't as fit or fast as the last time that I ran the marathon or juggling a number issues that life throws at you, I was making far too many excuses. However, I did manage to get by with some key runs banked in the Lydd 20 mile and the London Landmarks Half which really helped with some confidence.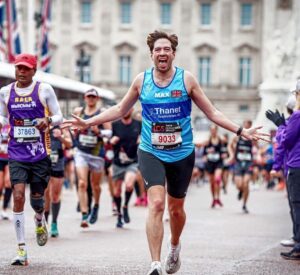 It wasn't long before the big day came around and after weeks of beating myself up for not doing enough I decided that I was going to make the most of this iconic race and try and enjoy every second of it. 
I had family and friends that were either following me around the course or tracking me on the app and I didn't want to let them or the Club down. I was full of race day nerves which I saw as a good sign. The whether was overcast and full of rain which turned out to be pretty great conditions to run in. 
Once the race got underway,. I instantly forgot about the worries I had in running this race and really started to enjoy it. Thousands and thousands of people littered the streets offering their support is truly incredible especially given the poor weather conditions for spectators. Seeing everyone around me running whether it be for a time, worthy cause or personal achievement was also really inspiring and sometimes a little emotional. 
I stuck to a plan by keeping the pacing consistent and fuelling with gels after each 8k as best I could which would give me the best chance of finishing as best as I could. 
Everything had been going really well until I got to 35k which was where I started to struggle. This is where the lack of discipline with my training was starting to hurt me. As cheesy as it sounds, where my body started to fail me, I ran those last 7K with my heart, determined not to let family and fiends down. 
Coming down the Mall is a feeling I wish I could bottle, it is incredible. You instantly forget the struggles you have just been experiencing and you can't help but to start grinning like an idiot as you soak up the atmosphere down that final strength. It's what makes London so special. Although there was no PB, I came in with a respectable 3:45. I felt proud of the run and I really enjoyed myself. I have Chicago later on in the year and I'm determined to come back from America with a new Marathon personal best.
---
Maryanne Aitken (Kingsgate Soft Tissue Therapy) was also at the marathon expo, supporting runners before the race with a very welcome massage.  She has kindly offered the clubs marathon runners a discounted 30 minute massage for £30 instead of the normal £35 price.