Lee and Jay 'crowing' about their success at Smugglers 10k race
Six Traccies braved the weather for Sporting Events Smugglers 10k (Sunday 26th March).  
As runners from across Kent gathered at Minnis Bay the rain continued to fall, dampening the dampest of damp courses!  Fortunately the event was solely on the tarmac paths between Minnis and Reculver, but there really should have been whole families of ducks in some of the puddles!
The run started with a double cannon firing, which was really impressive and pirates in authentic costumes seeing the race off to a quick start.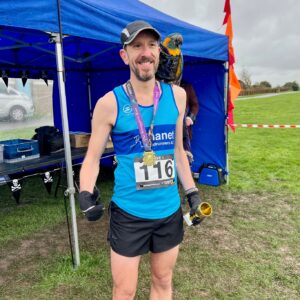 Lee Hardie pushed off with Jay Bailey alongside him to a fast start, encouraged by several Traccie marshals along the way (Pam Philpot, Steve Hawkins and Charlotte Barton thank you).  There was really stiff competition from Canterbury, Ashford and Dartford runners.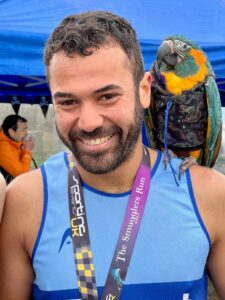 At times the path resembled an aqueduct, but Lee and Jay just ploughed through it, securing a good position and hanging on with true grit to secure tremendous times. 
Although flat, this was not a PB course due to the weather.
Lee Hardie finished as first man in 35.46, just a few seconds off his 34.37 PB. 
Jay Bailey finished second in 37.42, 30 seconds faster than the Canterbury Riverside 10k the previous weekend.
Claire Greenaway finished in a very respectable 46.10, followed by Jon Holl 52.36 (race adjudicator), Lainey Carter 55.31 and Maxwell Hubbard finished in 59.18 (pacing a new runner to a sub 1hr 10k success).
It was great to see Thanet men holding the first and second place trophies at this tough race.  There is much more to come from these two athletes.