London 10k race report
The summer racing season is in full swing – and my next stop was the ASICS London 10k. Closed road races always carry a certain appeal, especially when they are staged in the capital; and after a string of good results, I was hopeful that I could push myself just a little bit further with plenty of crowd support.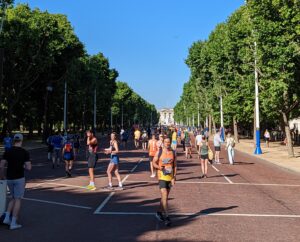 Getting to the race itself was a bit of a challenge, due to the usual 'engineering' works that trouble our railways on a Sunday. But after a bit of planning, the journey was straight forward enough. Within a 5-minute walk of Charing Cross station, I found myself strolling along The Mall to the baggage drop point. After taking a moment to soak up the pre-race atmosphere, I went for my warm up jog – a few loops between Buckingham Place and Horse Guards Parade. The setting and the views for this race were not going to disappoint.
I was fortunate to find myself in the front pen for the race start. It was a slightly surreal experience to be lined up so close to the elite athletes, with 7,500 runners waiting in anticipation behind us. There was no time to get caught up in the moment though – the gun went and we were off. Despite being a large event, I soon found myself between a couple of groups and I had to make an early decision whether to chase the pack in front or settle into the group behind. I chose the former, I hadn't set a 5am alarm to sit in!
Conditions were warm, even at 0930, with only a slight breeze and the shadow of London's tall buildings for shelter. Thankfully the roads were lined with support though, and there was a constant stream of on course music and cheer stations. It's this atmosphere of the big races, that just can't be beaten.
I rattled through 5km in a time roughly in line with my pre-race expectations. The course was mostly flat, but there were a few small undulations. More of a challenge were the 6 complete U-turns and even more sharp corners. Each one did slow you down a bit; but it also broke up the race into manageable sections. On balance, it was nowhere near as bad as I had feared before the race. Don't let it put you off if you're thinking of entering next year.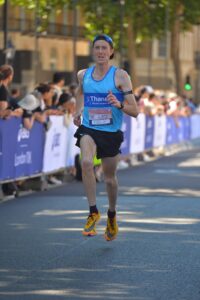 With a few km to go I was heading into 'holding on' territory. I was now running with just one or two others and they didn't seem to be that inclined to share the workload. I knew the finish wasn't too far away though, and at this point in the race I always tell myself not to waste all the effort I had put in during the first part of the race.
After one last sharp turn I was onto the home straight. I managed something which felt like a kick, but which in reality was probably just a gentle increase in pace – and I crossed the line in 33:44. A new personal best and 26th overall in the race.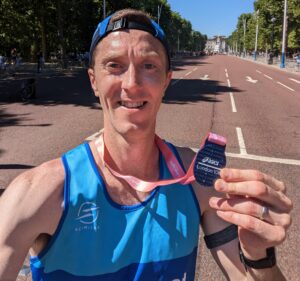 Huge congrats to Jack for the PB and thank you for the race report.