Medals galore for Team TRAC at Kent 10k championships
This weekend marked the penultimate race of the Kent Grand Prix series.  The Larkfield 10k also acted as a club champs race and the Kent 10k Championships.
Near perfect conditions on the day greeted the runners as we arrived to a very well organised and welcoming set of marshals at race HQ.  
Team TRAC travelled in big numbers to this event; keen to maximise club champs and Kent Grand Prix points as well as try and get on the podium for county championships medals.
The race itself is a two lap affair.  A fast downhill start with a twisty mid section through a housing estate followed by a long drag uphill to complete the first lap.
Jack Bradley led the TRAC runners home in 9th place overall in a time of 34:31.  It shows the quality of the runners on show here as that time would be enough to win quite a few Kent 10k races.
Andy Stevens followed behind in 14th place in a time of 35:34 and won the gold medal for the Vet 50 category.  We had a further 4 runners all coming under 40:00 – Matt Mccarthy, Chris Brenchley (who won Bronze in the Kent V50 Champs), Phil Morton and Matt Finch, whilst Richard Allan narrowly missed out in 40:10.  
As it was a Kent Championships event, there were gold, silver and bronze medals for team prizes too across all age categories.
The Male V50 team won gold (Andy, Chris and Phil).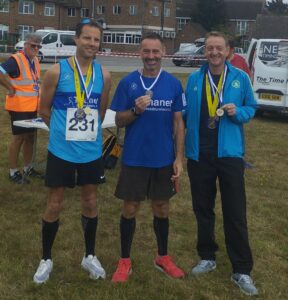 The Ladies V35 team won silver (Jo Kemp, Claire Greenaway and Lainey Carter)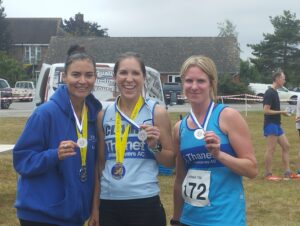 The Male V40 team also won silver (Matt Mccarthy, Matt Finch and Richard Allan)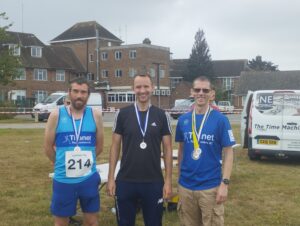 Brittany Crombie also scored a PB which she was delighted with.  It was really noticeable how all the team prize winners regularly turn up to Thursday night track sessions !  There's definitely a link there and hopefully this will encourage more members to give track a try.  
Full TRAC results below:
9th – Jack Bradley  34:31
14th – Andy Stevens  35:34
27th – Matt Mccarthy  38:13
28th – Chris Brenchley  38:24
37th – Phil Morton  39:17
39th – Matt Finch  39:29
45th – Richard Allan  40:10
82nd – James Figgins  43:42
91st – Steve Suttle  44:28
96th – Dan Grech  44:37
106th – Jo Kemp  45:16
112th – Brittany Crombie  45:39
121st – Claire Greenaway  46:17
180th – Nikki Boyes  51:19
202nd – Mark Hadden  53:29
223rd – Tim Kerr  54:39
235th – Lainey Carter  56:19
266th – Zoe Berry  59:13
293rd – Phil Cope  1:04:32
Club champs points will be added over the next day or two.  In the meantime, well done to everyone who made the trip to Larkfield.  It's great how we can travel in numbers to the other side of Kent and come home with so many good performances.