Race report – Ashford 5 and 10 mile race
Sunday 30th October 2022 saw the Ashford & District Halloween 10 and 5 mile road races.
It had been raining all the way to Ashford and when arriving at Towers School I wound down my window and some creepy fellow in full Halloween costume pointed to the car park laughed and said 'This way to my dungeon'. What a great start!
The course began a 5 minute walk away in Sandyhurst Lane at the bottom of 400 meter steep hill which you had to run up at the start (nice).
I'd ran this course in 2019 and remembered it being hilly but having read on some website that it was a flat course, I thought maybe the course had changed…. it had not!
This Club Championship event sadly clashed with the 1st Kent Fitness League cross country race at Knole Park so there were not that many TRACies present.
I wanted to do both but as I hadn't done that many Club Champ races I decided on this one. I'd already seen fellow TRACies Sarah Bailey, Terry Brightwell and Lee Hardie. Lee was doing the 5.
I did my warm up, drills and was some strides on the start hill to get the heart rate up.
I heard a couple of runners nearby saying that you had to again run up this hill to the finish line and thinking the course may be different my heart sank.
So we were off… The start was in waves and wave 1 for the 10 and 5 all started at the same time.
After the hill managed to get into a rhythm and right from the start and up to about mile 5 I found myself in a battle with another male runner who looked of a similar age to me. As long as certain other V50 TRAC members aren't present (mention no names) I always think that I could be in with a chance for 1st V50, so that was my aim. We kept going past each other but on the hill prior to the long trail section I went past him then started to create some space. The trail section which went on for over a mile was covered in deep muddy puddles, leaves and tree roots, completely unsuitable for road shoes and as I looked down at my pink and white vaporflys I could have cried.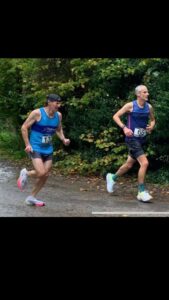 All the marshals on the route were in halloween costumes and were giving shouts of encouragement. About mile 7 just before a sharp downhill section one of the marshals shouted out at me "Second Male". I spun my head around and said 'WHAT!" Having started with the quicker 5 mile runners, I had no idea where I was, I had never had a podium finish before and was in complete shock. Foolishly this gave me a huge adrenaline rush and when I looked at my watch I could see see my current mile was going to be well under 6 min mile pace which was stupid. With about one and a half miles to go I paid the price and all systems were shutting down. I had to really dig deep and on a short out and back section you could see how far you were in front of the person behind. I counted about 40 seconds in front of 3rd place, so continued to push into the red and when I saw the finish line I gave the last 400 meters everything.
In the end I finished 2nd overall, my first ever podium finish, 1st V50 and a 10 mile PB at the same time.
Some great performances also that day were from Lee Hardie who finished 1st overall in the 5 mile race in an inspiring time of 29:46. Sarah Bailey who finished 6th in her age group and Terry Brightwell who although starting in Wave 3 overtook a number of competitors in Wave 2 and Wave 1 to finish strong.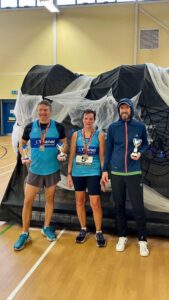 I still can't quite believe at my age I got a podium finish so would like to dedicate it firstly to everyone at TRAC who has helped me on this journey over the years and more recently Jacob Burton who's coaching services are continuing to push me in the right direction.
A big thank you to all of the Ashford & District Road Running Club volunteers and Sporting Events UK for putting on a great event.
**5 mile**
Lee Hardie – 29:46 – 1st place overall
**10mile**
Phil Stevens – 1:05:21 – 2nd place overall and 1st V50
Sarah Bailey – 1:35:40 – 28th women, 6th in age group
Chloe Styles – 1:41:09 – 34th woman
Terry Brightwell – 1:50:14 – 73rd man, 9th in 60+ age group
Thanks to Phil for the race report and great to see the TRACCies running well and getting podium finishes.