Race report- Bruges Half Marathon
In 2018 I ran Bruges half marathon and fell in love with the city. It's remained my favourite race and so this year I decided to go back and try my best to get a new PB in my favourite city.
I put in a great training block over the summer despite being extremely busy with work and catching a few illnesses. I was determined I would get just enough good Sunday long runs to break the 1:30:00.
On Saturday I travelled to Bruges with my boyfriend and made sure I did everything to prepare properly: an easy run, plenty of water, an Italian restaurant booked for the evening and an early night!
Sunday was beautiful weather, the atmosphere was fantastic and the beauty of Bruges is everything is so close and easy to get to.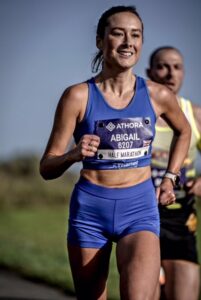 I set off aiming to run 6:50 min miles at the slowest but hoping to stick to 6:40. The start of the race was so well supported with crowds and music that I sat comfortably on 6:30s! I decided maybe after an easy week and preparing well I could possibly keep it up. Maybe I did deserve to do better than I hoped. My races so far this year haven't come together so maybe this was my time?!
At mile 5 I felt a stitch coming and I breathed through it, determined not to be defeated. At mile 8 wind picked up and I told myself I was prepared after many Sunday long runs against the windy Thanet  coast. The hardest part was definitely the last two miles but I knew how close I was to crushing my goal and I did just that.
My new PB is now 1:26:45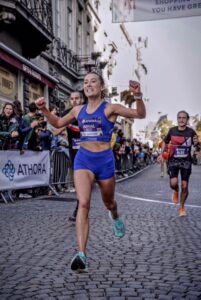 I can't recommend this race enough, the people, the organisers, the food.
After the race we celebrated by eating incredible pizza, ice cream and an evening 5 course meal. All vegan too. What a weekend!
Congratulations to Abi – not just for an incredible race, but for setting a new ladies club record for the half marathon.  The previous record, set by Myra Garrett, had stood since 1996 and we now have a new benchmark for female performance !