Race report – London Marathon
The London Marathon is THE marathon. It's the one that everyone recognises, the one that everyone wants to know if you have done, the one that provides the biggest of spectacles. Whether you're running for charity, to achieve personal goals, or just for 'fun'; this is the one that so many aspire to run.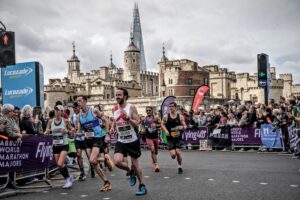 And so it was, on 2nd October, that TRACs London Marathon class of 2022 lined up on the start line for the races 42nd edition. Just 42.2km between them and the finish line.
Despite weather forecasts leading up to the race suggesting rain throughout most of the day; the weather on the morning was almost perfect. Low winds, cool and overcast.
The fair weather brought out the crowds; an essential part of the London experience. For the full distance, the roads were lined with supporters. Cheering, playing music, waving banners, high-5s, handing out drinks, and words of encouragement – these are crowds like no other. It's one of the first things that people want to tell you about when they have run the race, and I can now see why.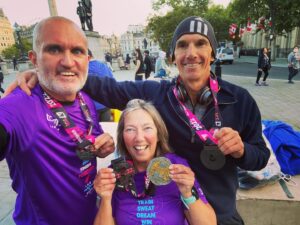 This was my first London Marathon, and the miles soon started to tick by. Joined by fellow TRAC member, Lee Hardie, we picked our way through the crowds for the first 10 miles or so. Going through the halfway mark and then onto 20 miles, I was still on track for my target time. Everyone who has run marathon, will tell you that this is where the race starts. The sightseeing was over, the weather was warming up and it was time to dig in. At this point my legs started to tire and the pace started to drop. Not significantly, but enough to extend my overall time by a few minutes. Buckingham Palace and The Mall eventually came into view, and I was over the line in 2:52:29. A small PB, but I go away knowing that I can go much faster next time around.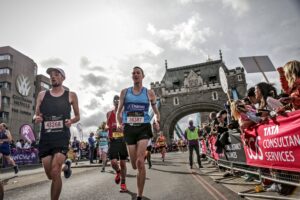 The next edition is only 6 months away, so we don't have long to wait.
Other TRAC athletes crossed the line to complete their races as follows:
Place 
(Overall)

Place
(Gender)

Place
(Category)

Name

Category

Finish

827

790

179

Hardie, Lee (GBR) **

40-44

02:49:38

1,030

979

534

18-39

02:52:29

6,502

5,301

122

60-64

03:34:15

8,813

6,921

3,113

18-39

03:45:12

13,378

9,993

1,538

45-49

04:01:59

13,491

10,068

4,567

18-39

04:02:34

15,718

11,404

6

75-79

04:12:22

16,293

11,744

1,793

45-49

04:14:42

18,969

5,564

126

60-64

04:25:20

29,681

19,270

19

75-79

05:11:48

** not affliated with TRAC for the race
Thanks to Jack for the race report and well done to all the TRAC runners who took part.