Race report – Madrid Half Marathon
This was a race I originally travelled abroad to run in 2019.  A pre-Covid mass participation event with no travel restrictions or complications !  It was such a well organised, scenic race that I couldn't pass the opportunity up to run it again this year now that travelling abroad is a little easier.
There were a few minor amendments to the course but the overall profile was very similar.  An uphill first few miles including running past Real Madrid's football ground, a flat section, downhill back into the city and an undulating last 5 miles with a particularly nasty hill between 9-10 and a final mile which was pretty much all uphill, past the Prado Art Gallery and finishing just after the famous Cibeles fountain.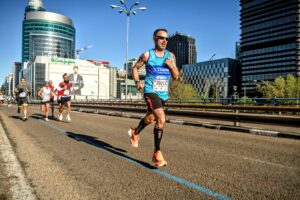 Training had gone well and I had put a lot of extra effort into maintaining the pace over the last three miles of the half marathon distance.  The uphill start was useful in keeping discipline as plenty of runners were visibly starting to tire and slow down at the north of the city which marked the end of the first hill.  The middle section went in a bit of a blur; enjoying the sights of the city and soaking up the incredible support from the locals.  I told myself that I just needed to be focused on the hill at mile 9 and there was a decent downhill stretch the other side. 
With 2 miles to go I still felt strong but knew the final, uphill mile was on the horizon.  This was just a case of digging deep and counting down the final stretch –  "Three laps of the track", "Two laps of the track" etc.  With 200m to go I thought the PB could be on but it would be tight.  Very tight.  100m to go and just gave it everything. I crossed the finish line in 1.17.49.  A PB by just a few seconds but a PB on a very challenging course which I was chuffed to bits with.  6 minutes quicker than I ran here last time.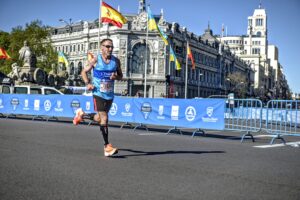 This is one of those races I would definitely recommend to others.  It's an incredibly well designed course, in a fantastic city which the locals have really taken to their hearts.  The support was overwhelming throughout.  I wanted my last race as a MV40 to be a memorable one and that's exactly what I got.  Vamos Madrid !! 
Andy