Terry Brightwell – 500 Park Runs !!
Club stalwart Terry Brightwell became the first person in Kent to complete his 500th Parkrun at Whitstable today!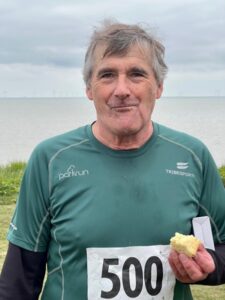 He also has a very impressive 250 volunteering credits to his name. Despite Terry keeping this quiet, a good number of Traccies travelled over to run with him and form a finishing arch as he completed his 500th parkrun. 
Terry's first parkrun was back in 2010 when Whitstable parkrun started. He has a PB of 22.58, on this hilly course, which is impressive at ANY age! Terry also supports the junior parkrun, coaches and adjudicates for England Athletics, giving so much to the running community.  It was a fantastic atmosphere, with balloons, cake and cheers. Well done Terry!