Steve Suttle celebrates England selection
Everyone at Thanet Roadrunners AC would like to extend our huge congratulations to long serving member Steve Suttle on achieving selection for the England Masters Marathon team.
Steve had previously tried to achieve selection in 2018  but didn't quite qualify but persistence definitely paid off with a recent call up for the V65 team !
Steve took part in the Yorkshire Marathon recently which was a nominated qualifier for England Masters selection.  Despite only entering the race six weeks before, he was confident his endurance fitness base would be enough to put him in the frame for selection.  After looking at previous selection times (only the top 3 athletes in each age group qualify) he was aiming for a 3.30-3.40 time in Yorkshire.  
The race itself went to plan.  Steve ran an even first and second half despite the much hillier second half into a headwind and he says he felt strong throughout.  He finished in 3.37 which was around his target time.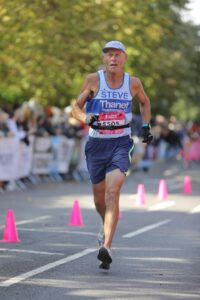 Steve finished second V65 and, although the top three qualify, Steve had an agonising wait for official confirmation.  The England Masters selection team do not pick the final team and notify everyone until all the results have been verified and loaded onto "Power of 10". After a fortnight of waiting, the email came through to an ecstatic Steve confirming he had made the England team for the Chester Marathon race in October 2024.  He tells me the happiness was matched with sheer relief when the selection email came through ! 
This is certainly one of the high points in Steve's running career which started back in 1981.  Although his achievements in the legendary London to Brighton ultra marathons compete for "top spot", this is definitely one of those occasions he will look back on with very fond memories.  He joins just a handful of Thanet Roadrunners masters athletes who have been picked for England. 
As a V65 runner, Steve still has a highly competitive running spirit.  When I asked him "Well, what's next after being picked to run for your country ?", he immediately responded "To get picked again and again.  The fire still burns within".
Who would bet against him doing exactly that ? 
Interview by Andy Stevens.