Medal Monday – but without the medal!
FOURTEEN Traccies and FIVE dogs travelled to the New Forest last weekend for the New Forest 10 mile trail race.  Several Traccies had completed this race in previous years and an open invitation was extended last year for anyone who wanted to be part of a road trip and race.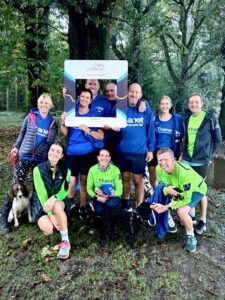 Brockenhurst parkrun was completed as a warmup run on Saturday morning.  This takes place in a Wilverley enclosure, a beautiful but also hilly woodland course.  There was a lovely atmosphere and Charlotte Barton's beautiful dalmatian Roo completed her first parkrun.  She absolutely loved it and her enthusiasm rubbed off on everyone else.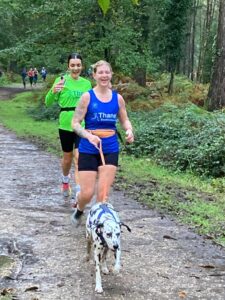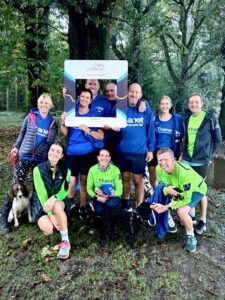 The clocks changed, giving us an extra hour in bed before the New Forest 10, which seemed perfect.  Unfortunately, it also gave the weather an extra hour to wreak havoc!
At 8.30 on Sunday the race was cancelled as most of the course was flooded and it had become too unsafe.  The thought of 900 people running through flowing flood water, up to 18 inches deep was too much.  There were also several trees down across the course.  As Charlotte Barton put it "So gutting because the medal was gonna be a beaut".
Nikki Boyes had chosen the day, many weeks earlier to complete her Virtual New York Marathon.  She planned to run 16 miles through the beautiful forests, then complete her run, using the New Forest 10-mile race to boost her pace.  Nikki wasn't to be put off by the race being cancelled.  She and Jo Holl decided to hammer out a marathon in rain anyway.  Traccies are made of tough stuff!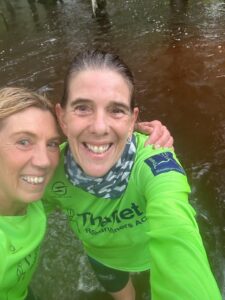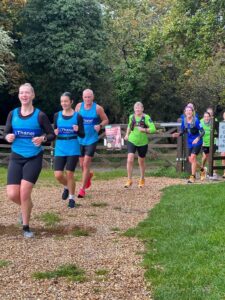 Hearing that Nikki and Jo had already started their epic marathon run, a decision was quickly taken by all the other traccies to run the last 10 miles with Nikki and Jo. 
We didn't let the weather dampen the mood (pun intended) and as they say, 'the show must go on'. So, we ran and waded the course!  Jo Holl took a pair of bin bags, one for each leg, Chris Brenchley and Charlotte Barton tried taking shoes and socks off at every flooded junction, but Chris just couldn't stand the thought of being LAST and gave up on this idea!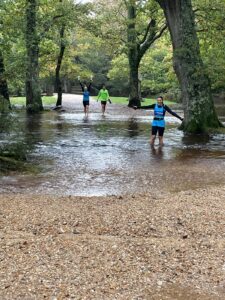 Elizabeth Carr negotiated the way around the route, using various apps.  They could have been mistaken for a military platoon wading through running water, above knee level in places.  Laughter was ever present on the run, and everyone agreed they couldn't be wetter, so puddles didn't matter!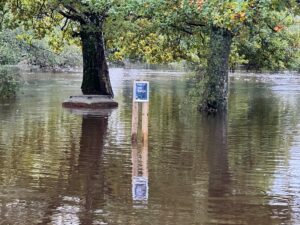 Charlotte Barton summarised the race as 'one of the best runs ever' because we had such a laugh. It reminded everyone what its like to run as part of a team.  Cross country really was tame compared to this!
Everyone got together for a fantastic Sunday roast afterwards shared experiences of this rather unusual 'Not 10-mile race'.
Despite the lack of medal, we've got some wonderful memories.