Thanet Roadrunners AC Harbour Wallbanger Race 2022
Hailed by national running press as 'the race where every runner hits the wall', the 7km (4.5m) course is from the charming seaside resort of Broadstairs to the Main sands at Ramsgate and returns on the same course. It's intended for runners to Hit or Bang on the Wall halfway at Ramsgate Harbour hence the name Wallbanger.
The route is on the sandy beaches that adorn the coastline in Thanet.  As a runner you can choose your own route to hop, skip and jump the many natural obstacles such as flints, chalk boulders, hard and soft sand, or to be daring and cut the route distance on the rocks and water!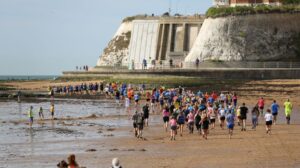 For this year's race we were treated to a beautiful sunny morning, perfect for a race day at the seaside all to ourselves, just before the regular beachgoers. The race had a great atmosphere as it coincided with our clubs 40th anniversary celebrations and many Thanet Roadrunners club members had been celebrating the night before with some of the real Harbour Wallbangers!
With a countdown we were away. A great crowd of cheering spectators and happy marshals kept us safe by pointing out the upcoming minor hazards. As a runner this part is both funny and hard work. Your fitness is required to get some race speed in amongst the bits where the sand is less forgiving, and the hard effort gets sapped from beneath you. We are all in this together though and your regular road race splits are less relevant. Soon you hit the wall. Runners loath the term "hitting the wall" attributed to a section of the race where you find you're struggling a bit. In this race we all hit the harbour wall, then briefly grab a refreshing water from some lovely marshals and race back, this time on the churned up soft sand, and soon to view Broadstairs again where the finish line and medal awaits.
Runners were all treated to an ice cream at the Pavilion this year to celebrate their success in completing the 2022 Harbour Wallbanger.
Ladies first
Liz Weeks 32:40 1st overall with a 5-year run streak of victories. Well done Liz.
Elly Maggs 2nd and our own Thanet runner Asmaa Hatim in 3rd. Well done Ladies.
Asmaa also won the 1st senior trophy with a 34:29.
Liz Weeks also won the VF35.
Odette Collard-Woolmer won the VF45 37:01
Paloma Lithman won the VF55 37:29
Gaynor Shelvey won this years VF65.
Well done to all our Lady Vet Athletes.
Thanet Roadrunner's Ladies won this year's highly competitive team prize by a very close margin of 8 seconds ahead of Dover Roadrunners. Our team included Asmaa, Brittany Crombie and Julie Williams. Well done to our Ladies team and all the club teams helping to keep the competition at a high level.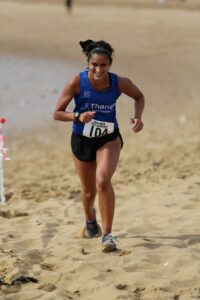 Men
Chris Edwards of Dover Roadrunners claimed the 1st place overall in 28:19 Well done Chris.
Dean Evans in 2nd and Darren Comeau 3rd. Well done Lad's.
Thanet Roadrunner Jay Bailey won the Senior Men in 29:41.
Chris Edwards also won the V40.
Chris Brenchley won the V50 29:44
Ian Stokes won the V60 34:19
Ian Johnston won the V70 46:57
Well done to all our male Vet athletes.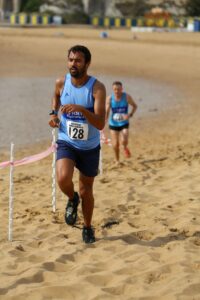 Vegan Runners took this year's team prize, ahead by 5 mins with Dean, Darren, and Rioch O'gorman. Well done guys.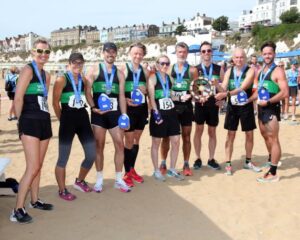 This event is only possible with the help by all who took part in organising, running and marshalling today.  You are all a credit to our running club.
Thanks
Chris and Nikki Thanet team captains.
---
Official race results can be found at Sporting Events UK website.
Official photographs can be downloaded FREE OF CHARGE at David J Carr Photography website.
Our next race is the Ricki Savage 20 miler on Sunday 4th September – a perfect marathon warm up race.