Gusbourne 10k 24th July 2022 Club Champs Race 7
Four Traccies walked away with 1st & 2nd place and five trophies between them!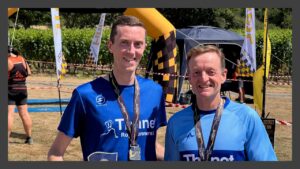 It was a very warm summer's morning for the fourth 10k of our club championships in Gusbourne, amongst the vineyards of mid Kent. The fantastic setting of the local vineyard gave it all a bit of a holiday feel, like one of those holiday runs where it's just too hot to run! The lure of the lunch and wine tasting tours was tempting.
The course here is all off road on the grass sections surrounding the grapes, twisting and turning up and down the south facing vineyard hills. Wine was on offer adding to the fun element en route as well as water to cool us down as much as possible. A 5km run was also taking place on an internal route crossing us at points within our race.
Our own Jack Bradley led the race from the start closely followed by myself (Chris Brenchley) in second. After a few kms Jack was a minute clear of me and the twisty courses allowed me to see I was also more than a minute clear of third place. The heat and course were not going to break any records, so we held our positions, both choosing to gradually ease up in the heat to come first and second. I also claimed a V50 trophy. A great win for Jack to add to his trophy cabinet.
Jo Holl was the first TRAC lady home in fourth overall in the ladies race also claiming a V50 trophy.
Peter Heath had a great run to claim a very worthy V60 trophy.
Nikki Boyes was 7th in the lady's race and second V50.
Our racers included Mark Hadden, Jon Holl, Sarah Bailey, and Terry Brightwell. Terry adjudicated today and was also the first over 70's competitor.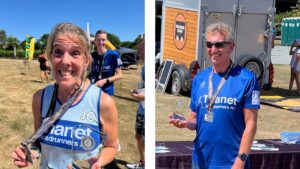 Results.
Jack Bradley 37:56
Christopher Brenchley 39:04
Jo Holl 50:00
Nikki Boyes 52:07
Peter Heath 52:28
Mark Hadden 57:45
Jon Holl 58:41 (Chief wine taster)
Sarah Bailey 1:00:41 (Assistant chief wine taster)
Terry Brightwell 1:05:40 (Race adjudicator)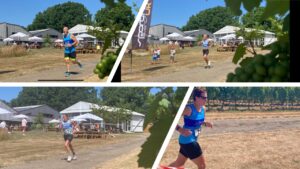 Our next race is the Folkestone Half Marathon on 25th September
https://www.nice-work.org.uk/races/folkestoneHalf
---
Editors note: 
Jack was told 'not to bother coming home unless you win a bottle of something!'  He won a 4 hour wine tasting tour and a fantastic meal for two in the Gusborne restaurant.  We hope your family were VERY pleased to see you Jack!  A fantastic run!
Thank you Barry Hopkins from Sporting Events UK for giving our Harbour Wallbanger, this coming Saturday a shout out.  We have very limited places left now. 
The Nice-work Folkestone half often sells out early.  Several Traccies missed Gusborne as it was full.  Book early to avoid disappointment!
We'd love to receive more race reports like this one…