Tim Kerr – (almost) 10 marathons in 10 days… then he turned up for hills training!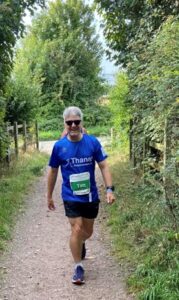 Adventures in Middle Earth
Whilst running in the 2011 Windermere marathon I came across a bunch of hardy souls (lunatics to you and me) who happened to be completing their 10th marathon in 10 consecutive days.  This sounded like the sort of extreme event that I would like to try but the entry cost of £3,500 was way too much.  Fast forward 12 years to August 2023 and I saw another opportunity to enter a so called 10-in-10, hosted by local running group SVN (Saxons, Vikings & Normans) at a far more realistic price of £375.  The organisers are big fans of the epic fantasy novel The Lord of the Rings by J. R. R. Tolkien and called their 10-in-10 "Adventures in Middle Earth".  Each day there would be a Lord of The Rings themed medal based on locations visited by the main characters as they progressed through this epic adventure.
Day 1 (Hobbiton) My alarm went off at 6am to give me enough time for breakfast, coffee and last-minute packing (making Marmite sandwiches) before setting off to Gravesend where each day's run was to take place.  There were about 40 hardy souls (lunatics) at the start line doing the 10-in-10, accompanied by around 25 or so one day only marathon runners.  The marathon route consisted of 8 laps of a 3.28 mile course on a mixture of foot paths and cycle routes.  This was going to be as much a mental challenge as it was physical!  The morning was warm and humid but got hotter as the day went on.  I needed to save enough energy to see me through the whole 10 days so completed the marathon in a steady 6:01:42.  On the drive home I felt surprisingly tired and somehow managed to bump my wife's car as I parked next to it.  (tip: drink lots of coffee if driving after a long run or better still arrange for someone else to drive)
Day 2 (Rivendell) My alarm went off at 6am for breakfast, coffee and last-minute packing (food and clothes for 2 nights stay at the Gravesend Travelodge).  Today's marathon route was going to be 5 laps of a 5.25 course up and down the local cycle path.  I was getting to know some of the other runners and the vast majority would give a cheery wave, a thumbs up, or words of encouragement whenever we passed each other or indeed when I was lapped by a fast runner (or in some cases when I lapped someone else).  I finished the marathon in 6:16:50.  It was just a 5 minute walk to the Travelodge, where, following a shower, I could get a restorative 2 hour kip before dinner.  (tip: definitely stay nearby when doing a multi-day event)
Day 3 (Kazad Dum) My alarm went off at 7am (yippee, an hour later than before) for breakfast (pot noodle) and coffee.  Today's run took longer than the previous 2, and my toes were beginning to ache, but I was thrilled that I had now completed 3 marathons in 3 days, more than I had ever achieved before.  My finish time was 6:31:57.  (tip: pot noodles are a very poor substitute for porridge)
Day 4 (Lothlorien) Although I had had a great night's rest and sleep, and only had to walk 5 minutes to the run start, today turned out to be one of the toughest.  I felt weary, some of my toenails had started to turn black, and I questioned the wisdom of this mad endeavour.  Having the support of the other runners was very welcome and kept me going to the end of the 26.2 miles.  After finishing in a time of 6:38:34, some of the other runners (my new friends) reminded me to do plenty of stretches each day and suggested having a cold bath with Epson salts.  (tip: putting your feet in a washing up bowl of cold water and some ice with Epson salts is a lot more comfortable than a cold bath)
Day 5 (Argonath) Due to heavy traffic and lots of inexplicable stopping, the morning drive from home to Gravesend took much longer than previous days and got me wondering what would happen if I got held up and missed the start.  I was also concerned that I may not be able to complete the marathon within the 6-hour cut-off for the penultimate lap.  However, I got to the start in time, and although the entire front half of my feet were now throbbing, I managed to complete the marathon in a slightly improved 6:29:13. (tip: ensure you leave plenty of time, plus more time, for travel on the UK's unpredictable roads)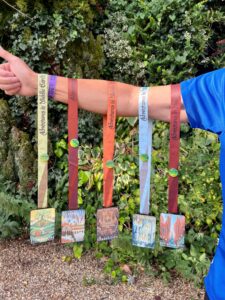 Day 6 (Rohan) I was now averaging around 6:30 hours per marathon.  For some reason my feet seemed to ache less, possible because I was becoming aware of other new niggles in my legs, especially my left thigh.  The other runners gave lots of good advice about salt tablets, the importance of stretching, and cold baths!  After that day's 6:36:50 marathon I drove straight to the Bluewater shopping centre to buy salt tablets.  (tip: do plenty of stretching after each lap and at the completion of each marathon)
Day 7 (Fangorn) Armed with my new collection of flavoured salt tablets I started the morning run with enthusiasm and hopes of an improved time.  The salt tablets tasted great, and I had loads.  However, the tablets didn't stop the increasing discomfort in my left thigh.  At around mile 13 it became too uncomfortable to run so I had to walk the remaining 13 miles.  This was hard going as I needed to walk at about 4 miles per hour in order to not miss the 6-hour cut-off for the penultimate lap.  I finished the marathon distance in 6:42:01, my slowest time so far.  Talking to other runners I was advised when I get home to lie on the floor with the backs of my legs against a wall or door for at least 5 minutes to help drain the lactic acid from them.  It was also suggested that I didn't need to consume so many salt tablets!  (tip: when lying with your legs up a wall, wear socks (clean ones of course) and put your head on a pillow to make this more comfortable)
Days 8, 9 & 10 (Helms Deep, Gondor & Mordor) As much as I wanted to complete 10 marathons in 10 days my sore thigh muscle made this impossible.  I would have to settle for 7 marathons in 7 days, plus 3 half marathons in 3 days.  As I was now walking, I took the opportunity to chat to other participants about their crazy multi day adventures and feats of endurance.  At the end of the event, I gathered up my 10 amazing medals and felt a glow of enormous satisfaction as I realised what I had achieved.  When I got home, I immediately signed up for next year's 10-in-10.  (tip: never give up!)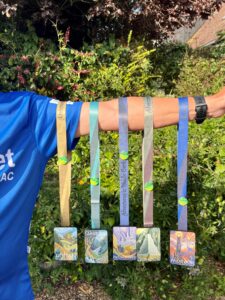 ---
Editors note:  We absolutely love receiving your race reports.  Thank you Tim for sharing your epic adventure with us!