Wingham 10k race report
Sunday 12th September saw the arrival of the 34th Wingham 10k and 5k road race.
The race also served as the 4th race in the club championships.
The day started for me with the usual dog walk and I was pleased to see how cool it was (well that
was about to change!)
The race starts and finishes in a recreation ground off the Goodnestone Road which has ample
parking on the field.  Together with about 10 other runners, for some reason we thought the race started at 10am, so we were there way too early. I'm sure I read it somewhere but looking at all the other early arrivers (of mature age), I think that was the reason.
Another good turn out saw 15 traccies turn up and everyone began their pre-race routines.
I did this race last year hoping to go sub 40 but it was a hot one then and I just missed out by 5
seconds. I remember a traccie wife last year saying she made sure she watched me cross the finish
line as that was where the St Johns Ambulance was and that I really wasn't looking well.
Hoping to have a 2nd attempt I was a bit worried about the heat, as the sun was now out and there
were not many clouds in the sky.
As with most races at the moment we went off in waves dependant on our target time.
It was a rolling start across the timing mat and we were off. From the field it turns right and goes
down before tackling the 1st hill. It was easy with the adrenalin and downhill start to hit this hill too
hard, which was a big mistake for me last year. This time I took it easier and at the top could already
see the leaders in the distance. Andy Stevens was there with his boy Jake and the eventual winner
(by the way I am not related, I wish I was, I might be a bit quicker then).
The route was mainly going up with the occasional down and at the 2k mark Larry Smith of Deal Tri
was there taking photos. I'd spoken to him on the warm up earlier and he'd kindly agreed to take
photos of all the traccies and send them over. Thanks Larry who said that he'd hopefully got
everyone.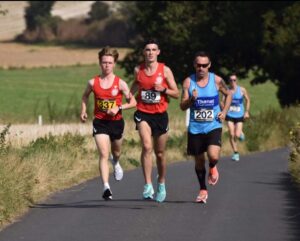 From there the route went past the lovely Goodnestone Park Gardens (went there a few weeks
back, lovely gardens, old trees and a nice tea room), which is the only off road section and after that
it kept going up and down although around the 5k mark it was more down than up. I had another
traccie Leigh Thain hot on my heels and we working hard together to try and close down another
runner just in front. It was really starting to get hot now but I was too in the zone to stop for water.
There were two water stations with bottled water on the course which is so much better than a
plastic cup (most of which ends up going anywhere than into your mouth) so well done race
organisers.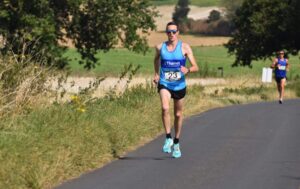 After failing to catch the guy in front the route was now heading back down the first hill which made
for a fast finish. At the bottom of the hill it kinks back up and it's a case of gritting your teeth for the
finish line. I knew I was so close to a sub 40 so I gave it my all and sprinted over the line with 3
seconds to spare.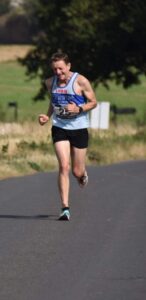 There were some great all round performances today with Andy Stevens getting 2nd overall and 1st
Vet 40, Jack Bradley coming in 3rd to get the last place on the podium, Chris Brenchley coming in 5th
overall and getting 1st Vet 50, Leigh Thain getting a PB (sorry if I've missed any other PBs out there
today), Steve Suttle getting 1st Vet 60 and all in all 5 traccies finishing in the top 10.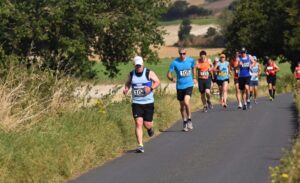 After the race there was a very nice mobile coffee/drinks/snacks van in the field and it was great to
see trophies being handed out again to the top finishers (rather than by post).
Sporting Events UK again put on another top event and a big thanks to all the marshals who were
superb.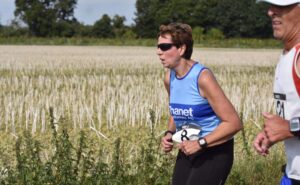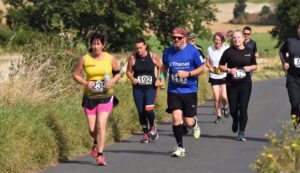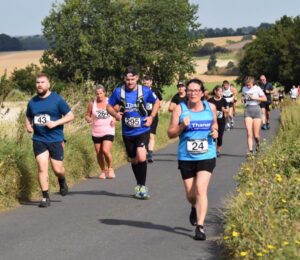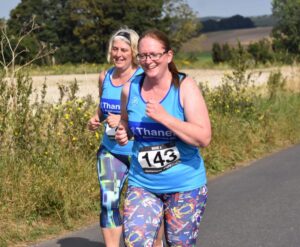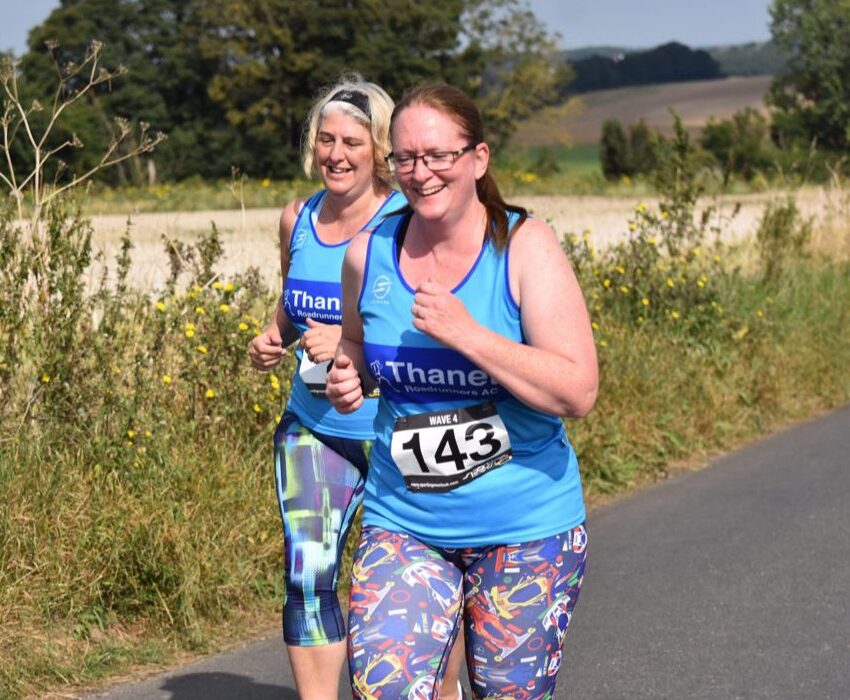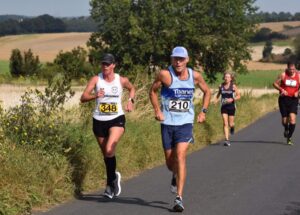 Traccie results as below:
Ladies
Jacquie Brazil 58:05
Sarah Bailey 58.06
Jan Hayward 1:17:24
Kirsty McMahon 1:21:53
Christine Ansell 1:21:53
Men
Andy Stevens 35:26 2nd overall 1st V40
Jack Bradley 3rd overall 36:47
Christopher Brenchley 37:09 1st V50
Phil Stevens 39:57
Leigh Thain 40:03
Matthew Hall 44:16
Steve Suttle 44:56 1 st V60
Steve Morgan 47:35
Mark Croucher 53:27
Malcolm Tate 59:32
Many thanks to Phil Stevens for the race write up and thanks to Larry from Deal Tri for the race photos !  Andy.