Thames Path 100km race report
So today was the start of my mobile picnic, otherwise known as the Thames Path 100km, accompanied by my running bestie Beryl. We decided to make it a fun time and enjoy the experience rather than head down and slog job. It was to be Michael's first experience of "crewing" and he had worked out where to meet up on route etc. The start was from Putney Bridge meandering along the Thames and finishing at Henley on Thames (although I did say to a passer- by we were finishing at Hackney!). 
There were four options of the challenge, quarter way, halfway, two day challenge and continuous. Obviously we chose the continuous option, it had to be done, and would give us enough time to catch up on chat.
We started at 07.30 temperature was pleasant but would progressively heat up to toasty by mid- afternoon and no sign of rain which had been previously forecast for the night before.
For the first fifty km we were jogging and taking photos. We were treated to some spectacular scenery and views of Richmond, Hampton Court and Windsor.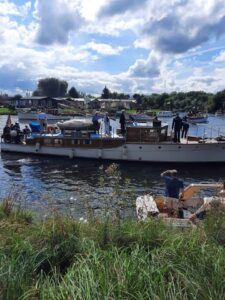 Runnymede being the half point mark, Prior to Runnymede we met up with the Saturn runners finishing their challenge. It was lovely to have a brief chat with them.
After our stop and meeting Michael at Runnymede we headed off into the sun, past Maidenhead, from there on we found ourselves less by the Thames path and more trudging through fields. We were informed at the start there will be livestock in the fields, but fortunately the only livestock to be seen was us (I do not have a very good track record with cows, especially those with horns ) The photos got less as basically I couldn't be asked.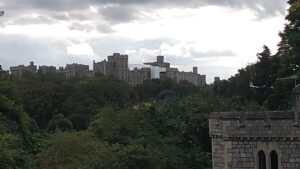 We had a slight diversion, not totally to blame but we missed a main rest point due to the only poor signage point and a broken down limousine. We then found our way back on track and phoned control to explain what had happened, no worries, a lot of people had missed the checkpoint, but more importantly missed a cup of coffee and the toilet which I was looking forward to and Michael who had my chest light and power pack to charge my watch.
We had approx. ten km to the next check point, we almost made it without any lights I did have my head torch in my vest and Beryl had her chest light but we decided to carry on and not stop (have you ever tried looking for something at the bottom of your pack in the pitch dark?)  Beyrl had a small torch and I used the torch on my mobile to good effect. Refuelled and raring to go, "only" twelve km to the end and the "big" hill says the kindly volunteer, I think he received the "death stare" from me. We walked the uneven surfaces, had a few trips, but luckily did not hit the ground, jogged the remainder to complete our adventure. 
Michael was at the finish to meet us. He had driven for approx. six and a half hours around London and the M4 to get to the check points, even the one we missed! He was just as exhausted as me.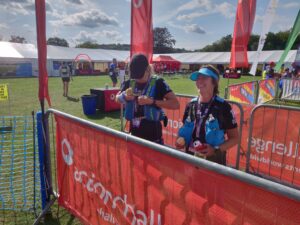 Highlights of the day:
Running with a great friend
Passing Hampton court and Windsor castle (slipped off the wall whist taking a photo)
Passing a flotilla of boats along the Thames in remembrance of the D day landings.
Had a callippo ice walking break
Meeting up with the Saturn runners
Running in front of the photographer whist trying to take a photo of a group of "prommers" The other option was a swim in the Thames, and that wasn't happening!
Watching Beryl tell off a group of men who had taken the glow sticks off the signs thereby making the trail very dark and unable to see the signage. I thought she was going to "knee-cap" them.
Tripping over numerous times, but no damage done, phew!
The event was well organised and catered for everyone. Had a lovely day, pleased to find out my time for 100km 14.47.28 (2.5 hrs quicker than my previous time) and along with Viking 100 mile endurance challenge 22/05/21 completed in 27.02.12 (2.5hrs quicker than my previous time). Two new TRAC records.
Thanks to Pam Philpot for such an entertaining race report and well done for such a great achievement !  Club records duly updated !  Andy.