Canterbury 10 Mile Road Race – Race Report
With the start of a new year, comes the start of a new season of road running which kicks off with the Canterbury 10 Mile Road Race. Being one of the first races on the year and the first race in the Kent Grand Prix this is always a well-attended race and this year was no different with all 1500 places sold out.
Our Thanet Roadrunners turned up with a massive 33 runners to give ourselves a good chance of building upon last year's 3rd place in the Kent Grand Prix.
The sold-out event made great use of the Canterbury Christ Church University Sports Centre as a Race HQ which had a number of stalls which ranged from sports merchandise, cakes and massage facilities for after the race. To help with congestion at the start, predicted finish markers were also in place which help organise the runners.
The race route starts at Spring Lane and takes in the surrounding areas of Canterbury as it heads out towards Bridge, through Patrixbourne and Bekesbourne before back down through the Barton Industrial Estate for a quick finish. This although this is a fairly challenging 10 mile race with a number of tough hills to navigate, it does offer some impressive views back across the city of Canterbury. Given the time of year, the Canterbury 10 usually has awful, bitterly cold weather but this year, racing conditions could not have been better. A clear sky, mild temperature and only a light breeze.
Taking full advantage of the great race conditions was Bradley Cameron who was our first male to finish in 7th position overall in a time of 59:31. Finishing just behind Bradley, in 14th position, was Chris Brenchley with a new personal best time of 1:00:34. Capping off the top three for our men was Jamie Collins in 39th position, also with a new personal best time of 1:03:42. A special mention also for David Winch who came first in V70+ age group in a time of 1:16:14, well done David.
For our ladies its was Nikki Boyes who was first to finish coming in 431st overall in a personal best time of 1:20.01. Hot on her heals was Jo Holl in 446th position also in a personal best time of 1:20:39. Rebecca Tranckle was our 3rd lady to finish in 568th position in a time of 1:24:40. A special mention to Kirsty McMahon for completing her first 10 mile race a year on from finishing our Couch to 5K programme. Well done Kirsty, you are inspirational.
There were also plenty of our TRACies that also had a great run with personal best times recorded for Richard Allen, Max Hubbard, Paul Brackenborough, Oliver Northrop, Simon Burton, Tim Greenaway and Julie Neaves. Well done guys, great running. We would also like to say a special thank you to Derek Sackett who was also in attendance as part of the medical cover for the event. Thank you Derek for helping make sure all runners returned home safely.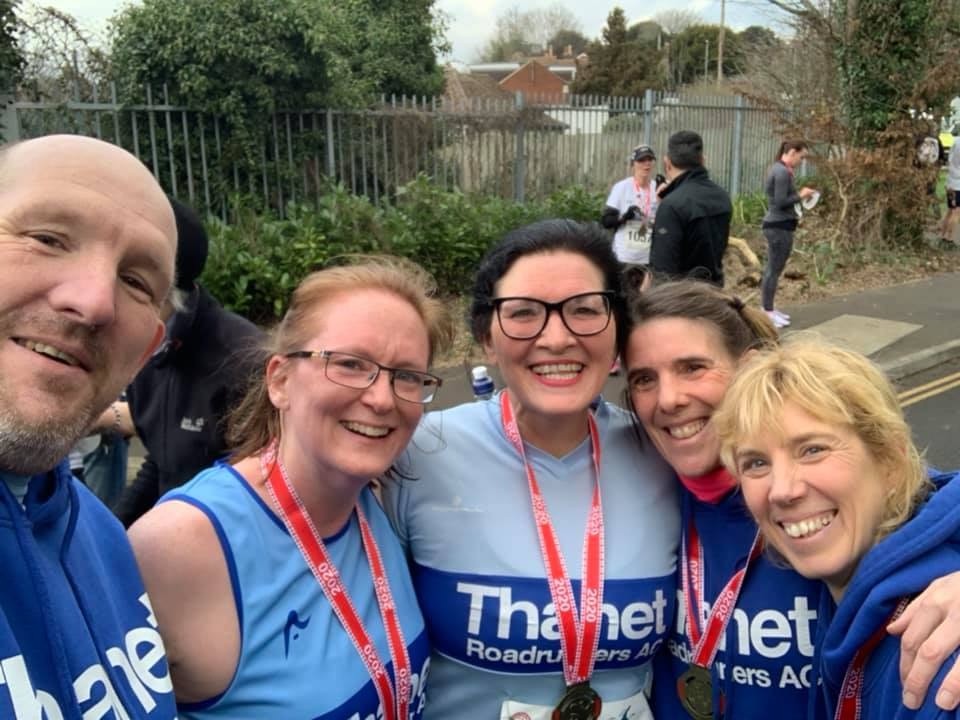 The full TRAC results are:
7th Bradley Cameron – 59:31
14th Chris Brenchley – 1:00:34
39th Jamie Collins – 1:03:42
50th Simon Arter – 1:04:28
69th Dan Clark – 1:05:54
101st Richard Allen – 1:07:32
123rd John Dickerson – 1:08:46
131st Max Hubbard – 1:08:59
140th Richard Clark – 1:09:29
161st David Riordan – 1:10:42
167th Phil Stevens – 1:10:55
238th Paul Brackenborough – 1:13:43
279th Steve Suttle – 1:14:55
302nd Steve Forshaw – 1:15:50
311th Scot Haggarty – 1:16:06
315th David Winch – 1:16:14
369th Simon Burton – 1:17:49
431st Nikki Boyes – 1:20:01
439th Oliver Northrop – 1:20:55
446th Jo Holl – 1:20:39
568th Rebecca Tranckle – 1:24:40
659th Tim Greenaway – 1:27:58
666th Jon Holl – 1:28:07
671st Ade Neaves – 1:28:17
738th Mark Hadden – 1:29:58
916th Julia Hermitage – 1:35:33
928th Phil Cope – 1:36:15
1090th Jacqui Brazil – 1:42:27
1250th Bill Wright – 1:50:14
1289th Kirsty McMahon – 1:54:20
1353th Julie Neaves – 1:59:34
1437th Heather Keen – 2:20:10
1408th Gaynor Shelvey – 2:33:44