Essex 50 Challenge Race Report
Training done – double, triple marathons, short runs in-between.
Hotel – booked.
Ten days before the run, manage to contract food poisoning, D+V for five days.
Nutritional status, carb loading, good diet etc. – nah, water, water, water.
Michael was driving so that took the pressure off me. So off we drove to booked hotel. On arrival it made the Bates Motel (Psycho) look like 5 star luxury. The front door and windows were boarded up with no reception staff or any staff for that matter. I had to call another hotel so send a worker to give me the keys. Whilst waiting I walked around the back of the hotel and was greeted with the sweet smell of an illegal substance. Part of me thought to do a runner, but "the guest" in the hotel who happens to work at the sister hotel was very nice, so we stayed. Basic was basic, enough said!
Race day, three hours sleep, but that's usual pre-race.
Breakfast Weetabix, mango juice, Imodium, Ranitidine, Gaviscon
Drove to Felstead, HQ was a hall in a lovely village.
The race was hosted by Linley Chambers of Challenge Running. The challenges were 100, 50 and 30 miles. The route consisted of 8.4 mile loop along a disused railway line, which over the years had become a woodland walk through with a river running alongside.
I was greeted by a few runners I had the pleasure of running with on previous occasions, including Nicky who I had met during the MDS, small world
Lap1. Most runners charged away as if it were a marathon; I tried to keep to my pace.
Lap2. Although there was shade along the route, I underestimated how humid and hot it actually was. Some runners were slowing down even at this early stage.
Lap3. I was feeling grotty, visual disturbances, the lack of sleep and certainly nutrition was effecting me. I hadn't even completed a marathon and felt as if I have run a 50km! Then I had a great conversation between me and myself. Listing the pros and cons of dropping to a 50km, which were four completed laps.
Pros – will still get a finish time at 50km
Will have damage limitation, recovery will be quicker and less chance of an injury
Will not get a DNF for 50 miles if I were to miss the cut off time
Cons- Will kick my-self in the morning for giving up
Require a 50 mile race as part of potential tick box for future 100 mile runs.
This 50 mile run is part of a training plan of my 100km in September.
One mile from HQ, somehow, I managed to turn right at a junction instead of going straight, and added a bonus mile, not much, but didn't help the mind. As I completed lap 3 and entered HQ, I was 80% sure I would drop to 50km. It hadn't helped that Nicky who was half a lap in-front of me had stated in passing she was not "feeling it" and would drop to 50km. Another runner who was also in-front of me had slowed to a walk and was dropping out at lap 3. It seemed so easy to do. Linley spoked to me about how I was feeling and I realised he was assessing my health. Just overheated a little, wet hat, head, neck etc., eat food and hydrate, think about what I wanted to do and decide at the end of lap 4.
Lap4. Ran with a chap named Martin, it was his first 100 mile challenge although he had run some ultras and was a sub 3 hour marathoner. His aim was a 21 hour 100 mile.  Realised just chatting with someone can lift a mood quite nicely and I felt much better. Told my brain, I can do this, who told my body, we can do this!
Lap 5 Well, I made my mind up 50 mile or nothing. Then wonders of wonder, on the food table CHEESE SANDWICHES had arrived.
Only two laps to finish = Only 16.8 miles.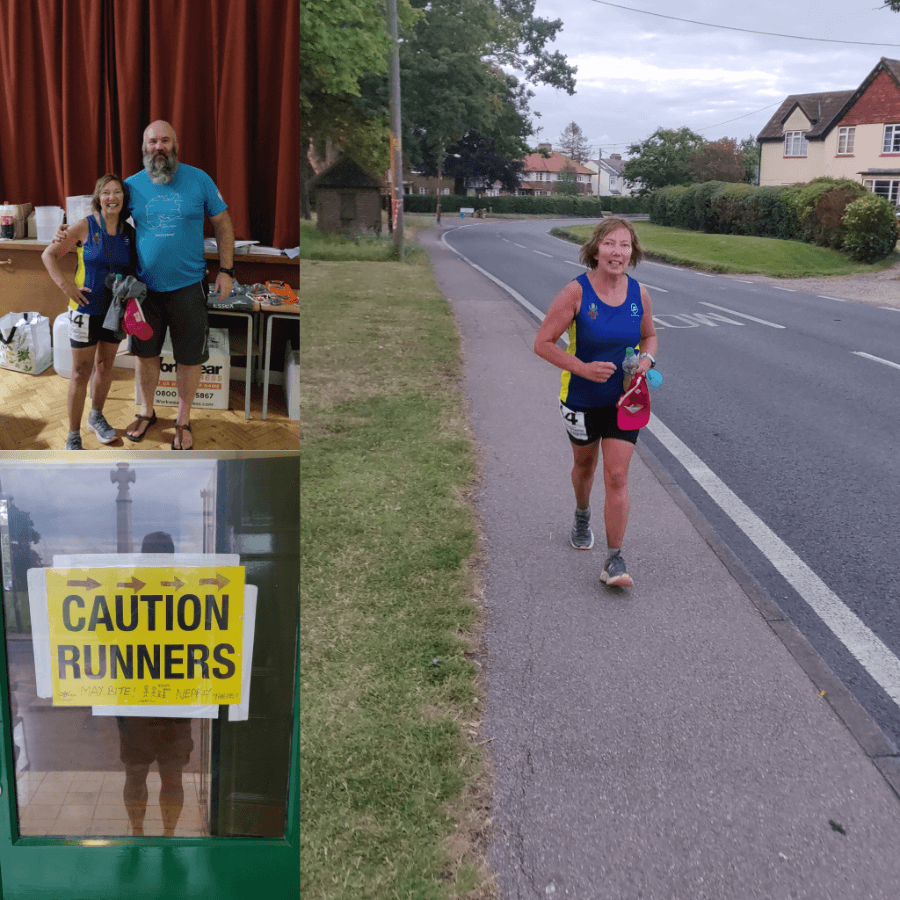 Lap 5 and 6 were on my own, the number of runners had now dropped to about 40 on the course, we greeted each other with hugs on passing (or that only may have been me!)
Lap 6 My brain was playing the game but my body was just running on vapours, no energy at all, can only be expected really, not having ate decent food for days. It was painful just to walk, my quads had seized and I felt like the "Tin Man" the ground was coming up to meet me on a number of occasions; my body wanted to curl up under the trees to sleep (not the best thing to do) So I told my body to jog 200metres/ walk 100 etc. It was a death march, but made it.
Met by Michael (who had taken the opportunity to visit Duxford air show)
Received my medal from Linley and a well done, you made it. Then I lay on the floor for 30 minutes to recover before a cup of tea and back to Bates Motel.
Time: 10.57.41
5th female overall 1st FV45/55
11th Overall out of 21 competitors