Manchester Half delivers for Chris and Jacob !
After a solid season of running with some great results, I had high hopes for Manchester Half on Sunday 15th October. Everyone that I spoke with said it was fast, had great crowds, and was the course to set a PB.
My previous PB for a Half Marathon was the London Big Half (1:36:00). This was a reasonably comfortable run for me. I knew I had more in the tank and knew that I could deliver a stronger Half. 
After what had been an unseasonably warm end to the summer, the morning of the race was freezing! Frost on cars for the first time this year. I made my way from one side of Manchester to the starting point. The atmosphere was great with runners warming up and completing their pre-race routines. I followed suit and started with my warmup run and strides. I found a nice little park that was empty, it gave me time to get focused and get ready for the race.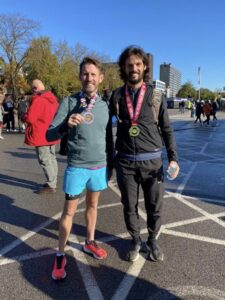 My personal target was 1:30:00. Jacob has been coaching and supporting me to get me to this pace. I knew it would be tough. Maintaining a 6:50 pace for 13.1 miles… are you kidding? I was starting in the Red-Wave A, just after 9am. I made my way to the waiting area with my fellow runners, and enjoyed the sunshine, and atmosphere. Ahead of me I spotted a 1:30:00 pacer.  He was about 25 meters ahead but I knew if I followed him I could achieve my time. When the gun went off the excited runners started moving. The start was good, not too cramped or difficult to make your way through. I soon found my pace and stride. I soon caught the pacer and realised, if I can pass him, I can achieve a sub 1:30:00… if I can maintain that pace. I had written my 5k, 10k, 15k, and 20k times on my arm and when I passed 5k, I knew I was ahead of my target. I felt good and knew that if I can hold this pace, I will hit my target. At each 5k marker, I was still ahead of my times.
At around 9 miles I started to feel the effort but kept pushing on. I could hear the pacer behind me shouting encouragement at the other runners. I didn't want him to pass me, so I kept pushing forward. At 13 miles we passed through the Puma Nitro Tunnel and then the finish line was in sight. 
It was incredible finishing the race, the atmosphere was electric. I crossed the line and realised I had completed the race in 1:28:42. Way faster than I could have ever imagined. I was elated.
Eight months ago, when I joined Thanet Roadrunners, I never would have thought I would have come this far. You have all been great at inspiring, motivating, and pushing me forward
Thanks, 
Chris Pascoe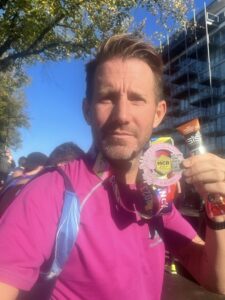 Chris' coach and TRAC Run Leader Jacob Burton also took part in the event setting a new PB of 1:21:11. Jacob was happy with his time, clocking his fastest 10mile along the way.