A running journey ……
'Mr average' shares some tips
We tend to (rightly) celebrate the success of some speedy club runners, but like many in the club I'm 'average Jon', a social runner who enjoys staying fit, has made great friends through the club and if I finish in the top third in a race consider I've done well! 
If I was a car, I would be a second-hand Volvo… reliable, heavy, rattles and squeaks a bit, (occasionally backfires) and always gets there, but never in a winning time! 
I first ran London Marathon in 2011 in just under 6 hours. Like many, I said 'never again' but went on to do others. In 2014 I trained to the London plan, finishing in 4:04:47 and running every step, but hating every minute. I accepted at that point that I would never break the sub-4-hour barrier. 
Then in 2022, encouraged by my TRAC friends I entered the Chicago Marathon ballot, knowing the odds of getting a place were 100/1. Yes, it happened, I got in!!! If I'm honest, I wasn't delighted! However, I decided in my 60th year, this was going to be my last bash as a sub-4. I remember telling everyone in January that 'this is the year' and some very doubtful faces staring back at me!
So, what did I do differently?
I trained to a plan. In my case Jacob Burton set me a plan and monitored my performance on Strava. This really helped me. I know others use the Boston and London Marathon plans to great success. 
I trained at different paces, forcing myself to run some of the long runs considerably slower than I was comfortable with. And guess what… no one said, 'You did a slow run the other day Jon'. It was really hard to run slowly sometimes as I felt I was wasting my time, but it worked and kept me uninjured. I also used interval training and hills training and pushed myself, but not to the point of injury. 
I bought myself some Nike Invincible running shoes for training runs. Our running captain Chris Brenchley recommended these. I'm convinced that putting in all those training miles in these super-spongy shoes prevented me arriving at the start line injured. 
I completed many of my long training runs early in the morning, many with nothing but coffee before I left.  I'm convinced this helped me drop some of my excess weight.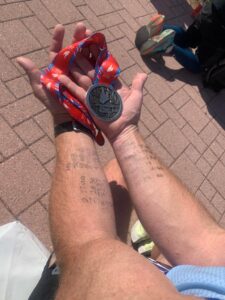 On race day, stuck RIGIDLY to 5k splits I had written on my arm. I had the first 10 miles on my left forearm and the second 10 miles on my right. Weirdly, I found the switch from one arm to the other at 10 miles made me feel I was nearly there! And yes, I started slowly. In the case of Chicago my watch was all over the place on everything except time, due to tower blocks, so having my splits written down was vital. 
I took gels much earlier than I've ever taken them before. My first gel was at 30 minutes. This definitely made a difference. 
Another silly little thing, which I'm convinced helped was a self-imposed rule I developed in training. Previously, I used to reach a hill and look down at my watch, to see my pace plummeting and the ground passing slowly. I made a rule that I would not look at my Garmin unless I was running on level or downhill roads. The result was that when I reached a hill I didn't look down at my watch, constrict my airway and lose focus. I just dug in and got it done. 
Lastly, I set out determined to smile at every camera I saw on the course. It was a silly thing, but it gave me focus of looking ahead for photographers and staying in a positive mindset. I literally smiled all the way! 
I arrived at Chicago Marathon start line uninjured and excited, if a little anxious. This was about my 10th marathon, never getting near that 4-hour barrier. And then it happened… a new personal best of 3.51.20, taking 13 minutes off a time set when I was eight years younger was the result. This may not be a podium position, but we all have our own internal goals and for me this was a HUGE achievement. I burst into tears as I approached the finish. What a melt!!!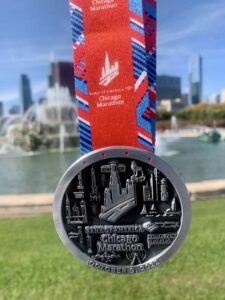 I'm really lucky to have my 'pocket rocket' as I call her, Jo as my wife and she was fantastically encouraging throughout, but using club runs as the second half of long runs, to maintain my pace, surrounded by encouraging runners really helped me. All the positive, upbeat comments from runners, some much faster than me, but also from Couch to 5k graduates, who still have a long way to go on their running journey made a huge difference. 
Returning to the car analogy, I'm still a Volvo, with even higher mileage, but I learned that by using new tyres, better fuel, offloading some weight and setting off at a steady 56mph in the slow lane, with a clear route, it's possible to reach my destination much faster than jumping in to fast lane at 80mph and ending the journey at 10mph on the hard shoulder, with an overheated engine and an empty tank of fuel. I ran Chicago with my lights on full beam, knowing my route really well. Sometimes traffic in the slow lane actually moves more quickly! 
The support, encouragement and advice on shoes, interval training, the best time to take gels, use of caffeine and silly things like 'runners nipple' was absolutely critical to my achievement. In many ways it was a 'team effort' as I knew so many TRAC runners were tracking my pace. Being part of the club, picking up tips and thinking of comments Nikki, Julie, Jacquie, Kev and of course Jacob made as I ran made a huge difference. Thank you! 
It's never too late to get a PB, with sound training and preparation.
I couldn't have done it without you Thanet Roadrunners! #TracFamily
Jon Holl