Oxleas KFL cross country report
The third cross country in the Kent fitness league saw our team of 20 competing at Oxleas Wood on
Sunday. Conditions were good for a real cross country after the early morning rain and we were
treated to some autumn sunshine. The course here is technical through the woods on muddy trails
and some ducking under branches and jumping fallen trees.
Brittany was our first lady home in 13th with Jo Kemp in 32nd place in the ladies. Jordan Gilbert led our
men's team in 33rd overall closely followed by Jude Wood and Jamie Jordan in 35th and 41st . Our
veteran athletes turned out in force to gather up some great points today.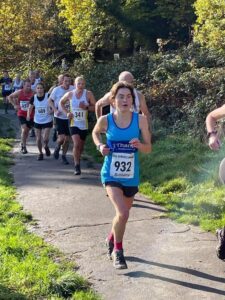 It was a very busy event of 526 runners with many enthusiastic runners giving it there all in a
sporting but highly competitive first lap. Two larger laps through the woods completed the racing
with another leg sapping uphill section, lined with coffee drinking spectators including photographer
today Gary Page, to spur us on. Thanks, Gary, for capturing us at our best!
Tim Kerr was a little late to the party after the poor weather caused some road hold ups. Despite this
Tim joined in very late and overtook some runners to assist our points campaign.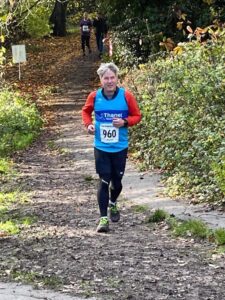 Our joint team did well in the team league of 18 clubs, moving up to 10th position and the ladies had
a close battle and are now 6th in their individual league. The men's team scored their highest points
this year in the league and are now in 10th position. We finished the morning with hot drinks and a
great selection of homemade cakes under our team gazebo. It feels so good to be part of such a
great team Trac event.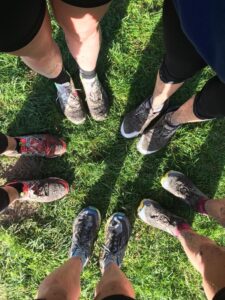 Next round is 18th December. A new venue at All Hallows.
Chris Brenchley and Nikki Boyes team Captains.