Manchester Marathon – sharing the secrets of success
28 thousand runners competed in Manchester Marathon last Sunday.  Amongst them were 7 Traccies, who did rather well! 
Pete Heath took a massive 40 minutes off his previous marathon time, from 2 years ago! 
James Figgins 3:05:51 (read more below)
Steve Hawkins 03:41:26 (read more below)
Jacob Burton 3:41:26 (enjoying the atmosphere and running alongside Steve)
Pete Heath 3:44:04 (read more below)
Jon Holl 4:04:14 
Arron Baldwin 4:15:36 
Simon Burton DNF (but undoubtedly did the right thing)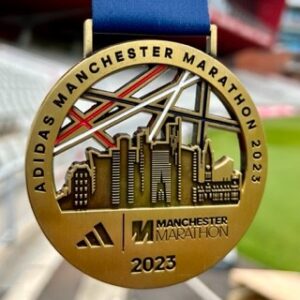 We've picked out three runners who we think you'll be interested to read about. 
It's well worth a read!
James Figgins (3:05:51) gave this race everything and achieved his ultimate goal, a good for age time which should qualify him for the iconic Boston Marathon in 2024. This was James' first marathon in a TRAC vest and he said the support from TRAC members and others from the south east who recognised the shirt made a huge difference.  Thank you to the travelling band of supporters.  We look forward to seeing James' Boston medal next year!
Steve Hawkins (03:41:26) approached his first ever marathon with lots of sound training and solid long runs under his belt.  But winter bugs took their toll in the fortnight leading up to the race.  At mile 10 a chesty cough is not what you need, but he pressed on.  Steve feels he learned many lessons from his first marathon.  Amongst them was not to take too many free sweets from the super supportive crowds and that flapjack does not go down well at mile 20! 
For a first marathon, this really was a spectacular time and we feel Steve deserves recognition for this. 
Pete Heath  (3:44:04) completely smashed his target.  We know readers love to learn from others and pick up little tips as they go, so we asked Pete to pen a few words about his achievement.
"I caught the marathon bug in the mid 2010's.  Armed with nothing more than determination and a miniscule amount of running talent, I set about the goal of running a sub 4.  Prior to Covid I took part in several TRAC marathon excursions including Loch Ness, Tromso, Amsterdam and Bruges. Every run went the same predictable way: 20 miles of fairly consistent running at about 4 hour pace followed by a spectacular plunge off a cliff ending in a 4hrs 10 minutes finish.  
I joined the gym to force myself into doing some stamina work.  I also did hills and track training on Wednesday and Thursday nights. I had been doing too many similar runs. I saw them described as "Beige" and that summed it up. So now I was doing much more variety, and times started to improve.
The next major breakthrough came courtesy of Jon Holl, who, having snagged a place in the prestigious Chicago marathon, enlisted the help of one of our "in house" coaches, Jacob Burton. Armed with a rigorous Jacob plan, Jon duly went out there and knocked out a 3.50. I figured what worked for Jon might work for me too. I enlisted Jacob, and began his training programme in the autumn, having entered Malta for Feb 2023. A couple of weeks in I managed to fling myself mercilessly to the floor on a Monday night run, cracked front teeth, bruised ribs and no running for a couple of weeks! Malta went on hold and Jacob suggested Manchester. I booked for that, got back on course and continued Jacobs plan as closely as I could manage. The times continued to improve even when I tweaked a hamstring in the gym. Again I'm in debt to Jacob for rejigging my programme to take account of that hiccup.
So, come the day (last Sunday) I felt as ready as I was ever likely to feel. I was under strict instructions not to go off too quick and risk burning out. "Treat it like a training run" was the mantra, with 8.35 pace the target. After a couple of "loosener" miles I could feel myself speeding up and had to force myself back down to the target pace. I felt like I would be letting Jacob down as much as anything if I didn't run to plan. The miles ticked off and I felt strong at 20 miles, and I had 70 minutes to get the rest of the race done. That last 6 miles was the stuff of dreams as far as I was concerned. No change of pace, and every mile took the pressure off, as I had more and more "time in the bag" to break 4 hours.
I kept the target pace going to the end and crossed the line in 3.44! It was all the sweeter that Jacob had run too, and could track my progress. We all met up at the end! Never has standing outside a cricket ground on a cold Manchester afternoon felt so good!!"
Manchester Marathon even featured some Traccies in their celebratory video.  
A great day for all!
---
There are lots of reasons to join Thanet Roadrunners.  Marathon training coaching is just one.  Come along on a Monday night and meet the team of run leaders and runners.  We have runners of all abilities, not just marathon runners!  WhatsApp us or message us for a chat 07974355811.