Race report – Rye Ancient Trails 30k
In preparation for Beachy Head Marathon next month, five TRACies headed to the medieval town of Rye on the 12th September to take part in the Ancient Trails 30k, which is now in it's 3rdyear.  There was also a 15k version.   By the time we arrived, the weather was a lot hotter than forecast and I was grateful for my last minute decision to grab sun-cream as I left the house.
Parking was two minutes away from the registration, where we headed for a toilet stop and bag drop, as our numbers with timing chips had already been sent in the post.  A short but steep walk up to Rye High Street for the start.  This was our first "mass start" since pre-Covid and both the 30k & 15k runners started at the same time.   With approx 300 runners in total, the narrow High Street felt a little closed in, but the mood was good, residents were watching from windows and the race was started by the town crier who stated, "when you hear my bell, run like hell"!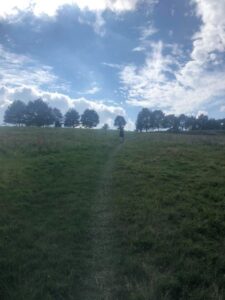 The route took us round and through Rye town onto quiet roads, and stunning countryside.  If you're a sucker for architecture like me, there is an abundance of beautiful buildings to look at as well as rolling hills, open fields and an abundance of sheep.  The circular route takes you through Rye, Iden, Beckley, Northiam (the stop here for the fabled Bread & Butter pudding is a must) and Peasmarsh.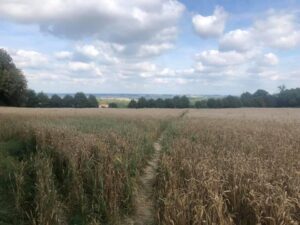 It certainly is a multi-terrain, undulating and challenging course and was made more of a task due to the hot weather.  It is however an extremely well thought out route, with long stretches in dense ancient woodland and shades county roads,  as well as farm tracks, footpaths and orchards.  The "charm" of crossing a style soon wore off as we'd heard there were 30 of them on route!  Very well supported by enthusiastic marshals and a well-marked course with hi vis signage and pink ribbons on trees to reinforce the fact you are going in the right direction!  A nice touch having a free pint of ale at the finish too! 
I have to put my hands up and say my training has not been as good and consistent as it should be, but having at least managed to get in long runs at the weekends, I finished this event in fairly good shape and can say I thoroughly enjoyed it.  The medal was gorgeous too!
Kudos go to Steve Forshaw for being first TRACie home in 3.08, followed by Steve Clarke, Karen Moys (2nd in age category) and Janet Morgan (1st in age category) all finishing together in a time of 3.55.  Better late than never, I finished in 4.16.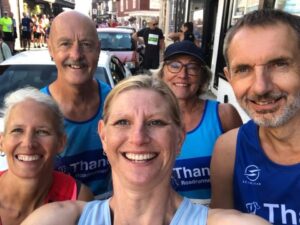 Would highly recommend this event as either a standalone run or practice for other off road challenges. Brilliant.
Julia Hermitage 
Well done Julia and gang.   Must admit, looks very tempting for next year !  That course looks fantastic.  Andy.