Race report – Thames Meander Marathon
London plays host to its fair share of running events, with none more famous than the London Marathon. But on 7 August, a much smaller event was taking place along the banks of the Thames, the Thames Meander Marathon.
The course was a flat, scenic, riverside trail starting and finishing at Kingston-upon-Thames. The course meandered along the Thames Path in a single lap, between Canbury Gardens and Barn Elms Rowing Club.
The race start time was brought forward to 0830, partly in anticipation of a heatwave. Yet on the morning of the race, we were greeted by torrential downpours, cool temperatures and the forecast of thunderstorms! Nevertheless, after a quick pre-race briefing, the field of 180 marathon runners was off.
The unseasonable weather proved to be both a blessing and a curse. While it was great to be cooler than expected, we were quickly reminded that this had been described as a trail marathon. The rain had created long sections of the course which would not have been out of place in a cross-country race. The ankle-deep puddles were too large to keep jumping over, so with each splash, I prayed that I was not going to slip or roll an ankle. My concern was only heightened when after 5km or so, we literally went off course. A sign had been placed incorrectly, taking us down a narrow muddy track, around a fallen tree and the ankle-deep puddles had turned into ankle-deep mud. Some runners had chosen to wear trail shoes for the race – and at this point, that looked like a very sensible decision!
Fortunately, this section didn't take us too far from the main path and we were soon back on track. I found myself in a group travelling at slightly faster than my goal pace, but I felt good and made the choice to stick with them rather than run solo. We worked together, skipping and splashing through the puddles as the rain continued to fall.
By the halfway turnaround that group was starting to tire, but I was still feeling strong. I stuck to my pace and I was kept company by runners passing in the opposite direction and the half marathon runners (who's race had started later). I was sitting in around 6th place at this point, and I was in the zone.
With 10k to go, I picked up the pace – gradually closing the runners in front of me. With a final push in the closing miles a crept into 3rd overall, which was where I finished. I crossed the line – achieving a goal I had been striving for since my last marathon attempt in 2018. My finishing time of 2:53:03, well below the 3-hour mark, and hopefully enough to secure a 'good for age' time in The London Marathon in 2022.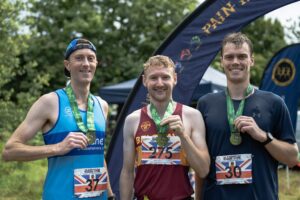 Jack Bradley
What a fantastic performance and race report.  On behalf of everyone at the club we would like to congratulate Jack on this incredible time.